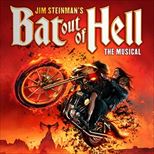 Bat Out Of Hell - Manchester
Opera House Manchester, Manchester
Doors Open 7:00 PM. Starts 7:30 PM.
Please note the ticket cost includes a restoration levy of £1.25
BAT OUT OF HELL, the new musical based on Jim Steinman's storied collaboration with singer Meat Loaf, arrives in London and Manchester BAT OUT OF HELL is a romantic adventure about rebellious youth and passionate love against the backdrop of a post-cataclysmic city. Following Strat, who has fallen in love with the daughter of the despotic Falco, BAT OUT OF HELL is a high-octane rock'n'roll adventure that tears through over 20 of Steinman's songs, including: I'd Do Anything for Love... (But I Won't Do That), You Took the Words Right Out of My Mouth (Hot Summer Night), Dead Ringer For Love, It's All Coming Back To Me Now, Two Out Of Three Ain't Bad and Bat Out Of Hell. This brand new musical is directed by Obie Award winner Jay Scheib (Powder her Face for New York City Opera; World of Wires and Platonov, or the Disinherited, at The Kitchen in New York), meanwhile Grammy Award winner Jim Steinman began his career in musical theatre, including the lyrics for Andrew Lloyd Webber's Whistle Down the Wind and the music for Tanz der Vampire.
Read More